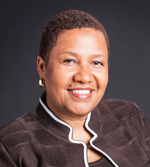 NBA Deputy Commissioner and COO Mark Tatum have announced that Pamela El will join the league in the new position of Chief Marketing Officer (CMO) on Aug. 18. El will report to Tatum and will be responsible for the NBA's global marketing operation, directing brand development, overall marketing, and advertising for the NBA, WNBA, and NBA Development League.
With more than 30 years of experience, El has long been recognized as an industry leader for her expertise in brand management, marketing strategy, creative development, and media and sponsorships. Half of her marketing career was spent with two world-class advertising agencies.
El spent over a decade with State Farm Insurance in the role of Marketing Vice President where she led sales and marketing strategy for the U.S. and Canada, including brand management, national and local media and advertising, sponsorships, and digital marketing. Most recently, El served as Senior Vice President of Financial Brand Marketing for Nationwide Insurance, where she spearheaded brand marketing for Financial Services and directed the creative, media, and research initiatives for its first direct-to-consumer campaign.
"With an extraordinary track record of success in the marketing industry, we are thrilled that Pam will be joining the NBA," said Tatum. "Having personally worked with Pam for many years on the NBA's partnership with State Farm, she will be a huge addition as we work to build our brand on a global scale."
"Working for the NBA is truly a dream come true," said El. "I love the competitiveness of the game and admire the league's world-class teams and passionate global fanbase. I look forward to working with Mark and everyone at the NBA as we take the league's marketing efforts to the next level."