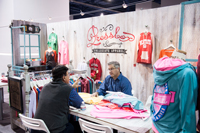 You know the look. Skinny jeans, comfortable oversize tops, coastal colors. What some are calling Southern Preppy began to pop last spring on campuses in Mississippi and Alabama and has been spreading north and west ever since. Royce Apparel (6060) was all over this sorority-driven trend when it started, and according to Skip Hoke, has seen sales skyrocket in the last six months with its Pressbox Collegiate Apparel.
"Prior to this year, our best-selling item sold about 35,000 units," says Hoke. "We sold well over 150,00 units of our chevron print pigment tees."
Royce—in business since the 80's and an NCAA licensee since 2002—does a wide range of women's and girls' college licensed styles in a variety of fabrics and colors, all with imaginative school logos and team names. "Young women are looking for a reason to buy something new," says Hoke. "We give them something they don't already have hanging in their closet."
New for the show are crewneck pigment fleece and lightweight hoodies for fall. Another popular item—fashion tank tops—came out for spring and are drawing attention. Beyond its designs and colors, Royce believes it has gained a competitive advantage by manufacturing its own v-neck.
"It's a blank that's unique," Hoke says.