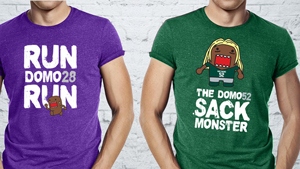 Big Tent Entertainment has teamed up with NFL Players Inc. (NFLPI) for a first-ever co-branding effort that brings Internet sensation Domoand all active NFL players together for a series of products.
The line includes plush, novelty items, apparel, hats, bags, drinkware, and collectibles, along with stickers and embeds for digital games and mobile apps.
Launching this fall, the co-branded products will be sold through numerous retail channels, including convenience, drug, sporting goods and amusement retailers. Big Tent will have the rights to use all NFL players as part of the co-branding deal, including 1,800 distinct player names, likenesses, numbers, photographs, voices, signatures, original art and biographical data. To maximize the reach of the partnership, NFLPI is developing supporting marketing materials.
"Domo is such a great fit to develop this first character co-brand with NFL players," says Steve Scebelo, vice president of licensing and business development, NFLPI. "If Domo were a football player, he would probably be a middle linebacker — that fun and ferocious personality who leads the team in game-changing plays. This co-brand aligns Domo with NFL players in an engaging new way that showcases both his and the players' personalities."
Domo's unique look and personality as the mascot for Japanese public broadcaster NHK quickly catapulted the character into one of the Internet's biggest sensations. As the reigning poster child for personalized, user-generated content, Domo has found a home as a pop culture icon within the online viral community, with hundreds of thousands of fan-made images, websites and videos posted to YouTube, Facebook, Instagram, Pinterest and Flickr, among others.
For more information, visit nflplayers.com or bigtent.tv. — J.L.