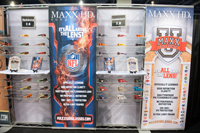 Location. Location. Location. For retailers, finding floor space or counter space for fast-selling high-appeal items is an endless challenge. That may explain the thumbs-up Maxx HD Sunglasses (2033) is getting from buyers in its second trip to the Sports Licensing and Tailgate Show. Maxx's long, tall 24-piece and 64-piece display stands address a lot of issues for space-challenged stores, while Maxx's innovative clamshell packaging—unveiled here in Las Vegas—is ideal for stores with no extra flat space at all.
"Our display options enable retailers to conserve on space and also change with the seasons," says Billy Witter. "They have multiple ways of merchandising."
The new clamshells have an open cavity so customers can get a feel for the sunglasses, and come with a logoed microfiber bag. Maxx is an NCAA, MLB, NFL,
Of course, from a consumer standpoint, it's the product that's the star. High-quality design and team-first styling draw fans to Maxx's eyewear, but it's the hi-definition lenses that create the wow factor once they try them on. All at a $20 price point.
"It really is all about the lens," Witter confirms. "They are made for the fan in the seats. They cut down the blue light and make colors more vivid. It's not only a fun item for the game…you wear them every day.