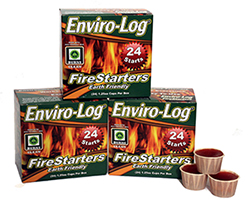 For hundreds of thousands of Americans, ritual tailgating doesn't officially start until the smell of charcoal starts wafting through the parking lot on game day. Over the past five years, tailgaters, campers and home bbq-ers have begun to substitute a growing number of environmentally sensitive products that have hit the grilling market. Among the most popular is the Enviro-log Firestarter. It is made from 100 percent recycled eco-friendly wax and offers an alternative to kindling, petroleum-based starter blocks, lighter fluids and ethanol-based gels.
In 2012, Tailgate Media Network selected Enviro-Log Firestarters as one of its Top 15 Tailgating Products of the Year. They are appropriate for at a wide range of retail environments, and are currently carried by Ace Hardware, Lowe's Home Improvement and many regional grocery and hardware retailers.
"Each Firestarter provides up to 20 minutes of burn time," says Enviro-Log founder and president Ross McRoy. "The tall and consistent flames can even light firewood that has been dampened with light snow or rain. And it burns to completion—100 percent consumed— leaving no mess to clean up."
Enviro-log Firestarters are ideal for backpacking, hiking, camping, fishing, emergency preparedness and, of course, tailgating. They provide a safe, clean and environmentally friendly way to start a fire anywhere. They come in packages of 24 that typically retail for $12.99.