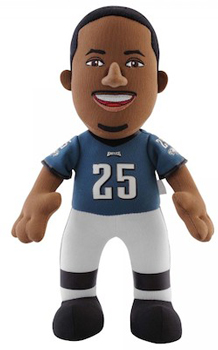 NFL Players Inc. and licensee Bleacher Creatures recently unveiled this season's NFL player plush collection, which includes more than 50 NFL stars.
The new line features some of the NFL's most popular stars, including the New Orleans Saints' Drew Brees, the Indianapolis Colts' Larry Fitzgerald, the Cleveland Browns' Johnny Manziel and the Philadelphia Eagles' LeSean McCoy. The 10-inch plush toys were available starting Sept. 1 at NFL stadium stores, NFLShop.com and BleacherCreatures.com.
"NFL Players Inc. is always seeking interesting new ways to reveal to fans a different side of the players," says Steve Scebelo, vice president, business development and licensing, NFLPI. "We're excited to partner with innovators like Bleacher Creatures to do just that, as they transform some of the NFL's most ferocious competitors into really life-like plush characters that football fans of all ages can enjoy throughout the season."
For more information, visit bleachercreatures.com. — J.L.