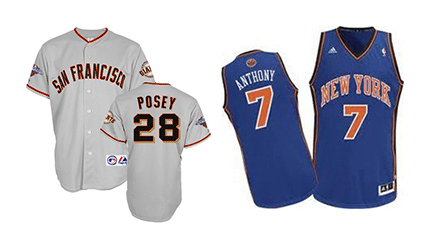 There is a particular kind of calculus that sports product retailers employ when making major buying decisions. It involves retail price points, margins, minimums, service, marketing and merchandising support, returns, restocking policy—and also understanding the customer who walks through the door or logs onto the website. More and more, that consumer is brand-conscious. Which means a retailer must be, too.
Understanding which sports brands have real value, what makes a sports brand valuable, and how that impacts buying decisions at retail, is a literally a job in and of itself. Oftentimes, a storeowner goes with his or her gut. There's something to be said for this approach, especially when blended with years of experience. However, it never hurts to have the some extra information at your fingertips.
That's where rankings like the annual "Forbes 40" of most valuable sports brands, published by Forbes Magazine, come in really handy, particularly when viewed over time as marketplace trends. This research should not steer your buying decisions, of course, but it can definitely keep you ahead of the curve when it comes to the big-picture world of sports. It's not too hard to find back issues of the Forbes 40 and track the ups and downs of the major names, but here's roughly what you're going to find…
What's in a name?
Plenty, if that name is generating a billion dollars a year in sales. Depending on whose research you accept, there are fewer than 10 sports brands with a value over $1 billion. This elite group is led by a pair of 800-pound gorillas, Nike and ESPN. Both are estimated to be worth between $10 and $15 billion. Adidas clocks in at more than $5 billion, while Under Armour and Reebok earn estimates between $1 and $4 billion. Sky Sports, Europe's version of ESPN, will probably crack the $5 billion barrier in 2013 or 2014. Among these mega-names, Adidas, Under Armour and Sky Sports have shown the most impressive growth in recent years, while Reebok has slipped slightly in terms of its dollar value as an international brand.
Most of these names are obviously well-represented on store shelves, while others have an indirect impact on consumer tastes. A savvy retailer who understands the influence of an ESPN on sales, would do well to keep tabs on who Sky Sports is reaching in the U.S., particularly online and through social media. The 2.2 million LIKES from rabid sports fans on the Sky Sports Facebook page are certainly nothing to sneeze at.
It's probably fair to say that sports retailers are more familiar with event branding, especially in the United States. The Super Bowl, for instance, has a value of close to $500 million as a sports brand, with the World Series coming in at slightly less than a third of that. The Super Bowl is gaining value as a brand, however, while the World Series has diminished somewhat. The Daytona 500, Final Four and Kentucky Derby are good for around $100 million apiece in brand value, but do you know which is rising and which is falling? That's a handy piece of information to wrap your head around. The horse race has been a big winner in recent years, while the car race has downshifted slightly. The Final Four is always a strong property.
Which international brands are the top performers?
This, again, is a valuable piece of data, especially if you're trying to expand into new markets. The next Summer Olympics will probably rival the Super Bowl in terms of its brand value. Other international events—including the men's soccer World Cup, Winter Olympics, and UEFA Champions League—are strong brands, but are not trending upward as dramatically as they once did. It's worth noting here that the formula for calculating the value of sports event brands takes into consideration the number of days the events cover. That gives a one-day event like the Super Bowl a high value relative to World Cup, which rakes in billions when it's played every four years.
Who are the athletes you want to pay attention to?
No surprises here. According to Forbes, five are worth more than $25 million from a branding standpoint—David Beckham, Roger Federer, LeBron James, Phil Mickelson and Tiger Woods. While Woods is still the most valuable "athlete brand," he is the only one if the five whose sales are headed south. Three interesting athletes who get relatively little ink here are heavy hitters overseas. Sprinter Usain Bolt and cricket stars Mahendra Singh Dhoni and Sachin Tendulkar are all worth over $10 million.
The Top 10 team brands in sports are all estimated to be worth $150 million or more, with the New York Yankees topping the list. They are followed by the Manchester United and Real Madrid soccer clubs, and the Dallas Cowboys. Rounding out the list are Bayern Munic, FC Barcelona and Arsenal from the world of soccer, the New England Patriots and baseball's Dodgers and Red Sox. It should be interesting to see how the legal troubles of Aaron Hernandez impact the value of the Pats' brand. It's certainly something to think about—the Dodgers wouldn't have made this list a few years ago, when the McCourts were dragging the team through an ugly public divorce.
In its analysis, Forbes uses different criteria to estimate the value of brands in different categories. The new Forbes 40 should be out later this fall. It will also be available at forbes.com.