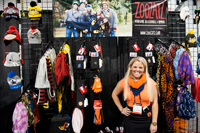 One of the advantages of attending the Sports Licensing and Tailgate Show, as opposed to following the action online, is that many exhibitors bring new products under a veil of secrecy so strict that it will only show them to buyers who physically come to the booth. Count Zoozatz (8045) among these exhibitors.
The company best known for its college mascot headwear (think Bucky Badger) has been branching more and more into accessories—including a popular line of scarves—and has brought what it believes will be its best-seller coming out of the show.
"This accessory item has never been seen except by the retailers who have stopped by today," says Katie Ross. "Whatever we put into the marketplace, we are super focused on quality, details and demographics. We're very niche-y. If you want to see it, come to the booth."
Having been sworn to secrecy, we cannot divulge the name or nature of Zoozatz's new product, except to say it's very imaginative…and very hip.