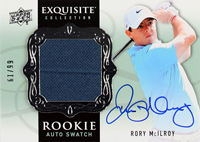 Upper Deck, Carlsbad, Calif., will release a new line of 2014 golf cards, called the Exquisite Collection, on July 29.
Each pack of cards in the super-premium set will contain five autographed cards. Retailers are preselling 2014 Exquisite Collection Golf with an average price of at least $600 per pack or more, according to the company. Highlights of the set include rookie cards of 2014 British Open champion Rory McIlroy; 2010 U.S. Open champion Graeme McDowell; 2014 U.S. Women's Open champion Michelle Wie; and rising star Cheyenne Woods, the niece of Tiger Woods.
Among the special cards that can also be found in 2014 Exquisite Collection Golf packs are McIlroy Exquisite autographed rookie swatch cards (numbered to 99); shadowbox-style, autographed Exquisite Dimension cards; ultra-limited Rookie Auto Patch Gold Spectrum 1-of-1 cards; an extensive selection of Tiger Woods-autographed cards in one set, which also includes multi-autographed cards of Tiger Woods paired with other legendary players; Legendary Signature and Signature Masterpiece cards of the sport's greats from the past and present; and Upper Deck Black Signature inserts.
"Upper Deck's position as the leader in the sports card and authenticated collectibles industry will undoubtedly be bolstered by the unveiling of our new 2014 Exquisite Collection Golf line of cards," said Jason Masherah, president of Upper Deck. "Having super-premium autograph rookie cards of Rory McIlroy who is coming off a sensational victory at Royal Liverpool to claim his third major championship, only adds to the excitement around this release."
The company specifically worked to have the 2014 Exquisite Collection Golf cards released prior to the upcoming National Sports Collectors Convention (NSCC), held July 31-Aug. 3 at the International Exposition (I-X) Center in Cleveland.
For more information, visit upperdeck.com. — J.L.