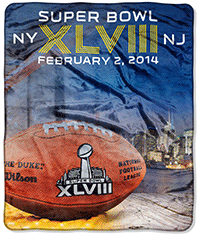 Some companies in the licensed sports business have seen it all. Include The Northwest Company on that list. "We were an NFL licensee from the infancy of licensing in the pro leagues," says Jerry Esposito, a 15-year veteran of the company. "We got into it because licensed product never dies. There is always a sports fan rooting for his home team."
A sales rep in the licensed marketplace for more than 25 years, Esposito knows what he's talking about. He feels The Northwest Company is set up for continued success, especially as it eyes an increased focus on e-commerce.
LOGO: The Northwest Company is a great example of how to make it in the licensed business. What kind of growth have you seen in your segment of the marketplace?
Jerry Esposito: Our business has continued to grow every year since I have been here. We see that trend continuing. We feel our biggest opportunity for growth is in our e-commerce business. Right now we service many e-commerce entities, For example, we have a great partnership with Fanatics and their 300 to 400 websites.
LOGO: What are some natural areas of expansion for The Northwest Company?
Jerry Esposito: We are always expanding our product mix. We've gone from a company that started with a triple-woven tapestry throw in North Carolina to now producing a large assortment of throws in different sizes and fabrications and always finding new products to add to our collection. We are the only licensed sports company with co-branded product. For example, we sell NFL and Disney product such as our Mickey Mouse hugger/with throw. We'll continue to expand these partnerships as well.
LOGO: What's the next move for The Northwest Company?
Jerry Esposito: Our focus right now is to continue to expand our bedding programs, comforter sets, and bed in bag sets. This will be our largest growth area in terms of product. We will always be #1 in the throw and blanket categories. One goal is to expand our licenses with co-branding. In fact, our new co-branding for 2014 will be with Hello Kitty and MLB and NFL. We see our company as the leader in non-apparel sports licensing.
What we do:
The Northwest Company manufactures throws, bedding (below), comforters, pillows, bathroom accessories, and auto accessories. The exclusive throw and bedding license for the NFL, the company has licenses with all the major sports leagues and more than 100 colleges, plus Disney, Nickelodeon, Warner Brothers, Hello Kitty and many other sports and entertainment licensors.
The Northwest Company boasts domestic and overseas manufacturing capabilities. They sell to all channels of distribution from Wal-Mart, Target, and Kmart to Dick's Sporting goods and team stores and stadiums, licensed product stores, websites, and mom and pops.