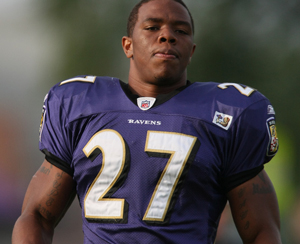 Nike has severed its endorsement deal with Ray Rice and EA Sports has pulled the scrubbed the embattled running back from its "Madden NFL 15" video game as fallout grows from his recent domestic violence incident, according to multiple media reports.
Nike spokesman KeJuan Wilkins confirmed to ESPN.com that as of noon ET Tuesday, the former Ravens running back, who had an active deal with the company, was no longer on its roster.
The company used Rice in January to unveil its cold-weather gear that was designed for the Super Bowl XLVIII, which was held in New Jersey. The company also is the official apparel provider for the NFL.
Rice jerseys also were pulled off shelves at retailers Dick's Sporting Goods and Modell's earlier this week, and were no longer available for sale at NFLShop.com, the league's official online store. The Ravens also announced this week they would allow fans to exchange Rice jerseys in the future, although the details have not yet been specified.
Rice also will be removed from the Madden NFL video game by the end of this week through an online roster update, as the game has already been released, according to Julie Foster, EA Sports Communications Director Julie Foster.
Rice lost another endorsement deal from a jump-training program called VertiMax. — J.L.