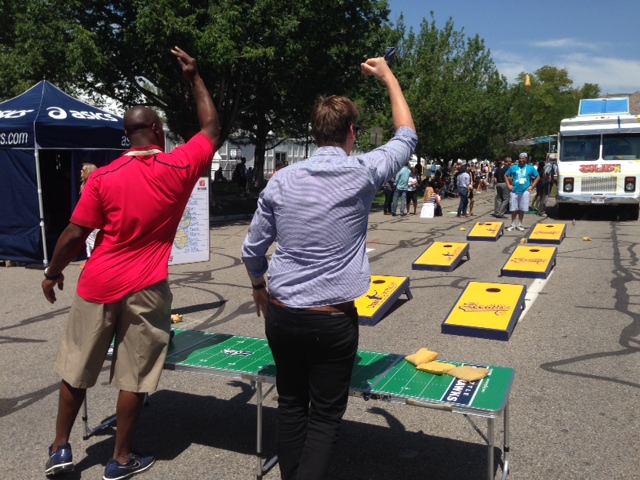 Last week, former NFL players Kevin Bentley, Lorenzo Neal and Will Witherspoon put their competitive drive on display while participating in the Cornhole Challenge at the Outdoor Retailer Summer Market in Salt Lake City, Utah.  Hosted by NFL Players Inc. (NFLPI) on Thursday and Friday, the Cornhole Challenge was one of several engaging exhibits featured at the Outdoor Retailer's tailgating event.
Bentley, Neal and Witherspoon joined more than 27,000 attendees at the show's Summer Market, which features a variety of outdoor retailers showcasing cool, new products.  In addition to making their mark on the cornhole tables, the trio engaged with attendees, answered questions about NFLPI, signed autographs and even exchanged a little "smack talk."
"When we were approached about this event we thought it was the perfect environment for a friendly, competitive activity featuring NFL players interacting with attendees," said Steve Scebelo, NFLPI Vice President of Licensing and Business Development.
"An opportunity like this was a treat," said Witherspoon. "I loved meeting attendees who also happen to be football fans.  Discussing the outdoor industry and how NFL players can support their goals, or even just talking about my playing days was a lot of fun."
NFLPI plans to host another Cornhole Challenge at the Sports & Tailgate Licensing Show in January 2015 that will include participation from NFL players.
"We're also exploring opportunities for retailers to host their own promotional cornhole challenges featuring NFL players nationally throughout the year," added Scebelo.