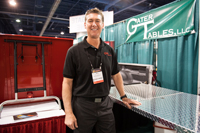 The fold-up-fold-out tabletop has been a staple in the tailgating business for more than a decade. When space is at a premium, it solves a multitude of problems.  One problem it fails to address, however, is where to put the hottest, heaviest items during a party. Enter Gater Tables (101) with the GaterTop, a heavy-duty polished aluminum table that fits snugly in any pickup bed and unfolds into a 64" x 40" surface that can support 220 pounds.
"We've had a really great reaction here in the Tailgate Zone," says Max Buchmann. "Everything you can't do on a plastic table you can do on a GaterTop. It's also good for retailers in the hardware and construction markets, as well as hunting and outdoors. Wherever you go, chances are you're going to need a sturdy table."
The GaterTop also comes in a power-coated version that can be painted in team colors.