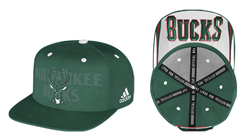 The 2014 NBA Draft Cap Collection goes on sale today. One of the most iconic pieces of basketball headwear, the 2014 version continues that legacy with an all-new design for each team.
Designed by adidas, the 2014 NBA Draft Caps will be worn by draftees as they shake hands with Adam Silver, who will be announcing first-round picks for the first time as NBA Commissioner during the 2014 NBA Draft in Brooklyn, New York, at the Barclays Center on June 26, 2014.
Design details of the 2014 NBA Draft Cap include:
· Snap-back style cap with two-tone closure
· Team name and logo featured on the front
· Team jersey graphic on the underside of the brim
· NBA logo embroidered on back
· 2014 "Official NBA Draft Cap Sticker" commemorating NBA Commissioner Adam Silver's inaugural NBA draft
The adidas NBA Draft Cap is now available at NBAStore.com, Nets Shop by adidas at the Barclays Center and other retailers for $28.