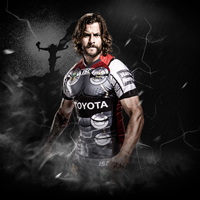 Rugby league apparel supplier ISC has developed an exclusive range of Marvel Super Hero-themed jerseys to be donned in Round 21 in National Rugby League (NRL) game play.
Five NRL teams will wear the jerseys in a collaboration that was born from a desire to create variety and innovation for Marvel and sports fans alike, according to the league.
The teams will sport shared attributes of strength, leadership, instinct, loyalty and strategy via their respective themed uniforms. Participating teams and their themed jerseys include the Roosters (Captain America), Dragons (Iron Man), Raiders (The Hulk), Cowboys (Thor) and Sea Eagles (Wolverine).
A star from each team — Anthony Minichiello of the Roosters; Gareth Widdop of the Dragons; Paul Vaughan of the Raiders; Ashton Sims of the Cowboys; and Kieran Foran of the Sea Eagles — is jointly promoting Round 21 with a series of vignettes that reveal how they each channel Marvel Super Hero strengths and attributes come game day.
The "Marvel Super Hero Round" of games will kick off Aug. 1, when the Manly take on the Broncos at Brookvale Oval. The Roosters (Captain America) meet the Dragons (Iron Man) on Aug. 2.
The jerseys are available for purchase from club stores, the ISC website, Rebel Sport and nrlshop.com. — J.L.