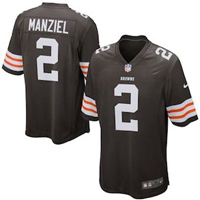 Cleveland Browns rookie quarterback Johnny Manziel ranks No. 1 overall on the NFL Players Inc. (NFLPI) Top 50 player sales list for the NFL's first quarter, with less than a month of actual sales recorded after the NFL Draft.
In that time span, Manziel surpassed Super Bowl XLVIII champion quarterback Russell Wilson of the Seattle Seahawks in overall sales, which is based on total sales of all officially licensed products via more than 70 licensees online and via traditional retail outlets from March 1 to May 31.
In addition to Manziel and Wilson, the Top 10 are San Francisco 49ers quarterback Colin Kaepernick (No. 3), Seattle Seahawks cornerback Richard Sherman (No. 4), Denver Broncos quarterback Peyton Manning (No. 5), Houston Texans defensive end J.J. Watt (No. 6), Seahawks running back Marshawn Lynch (No. 7), Dallas Cowboys wide receiver Dez Bryant (No. 8), New England Patriots quarterback Tom Brady (No. 9) and Green Bay Packers quarterback Aaron Rodgers (No. 10).
Additional highlights of the list include that Manziel outsold Wilson in Nike game jerseys; three Seahawks players — Wilson, Sherman and Lynch — led all players in Bobblehead sales; and Bryant made the biggest leap from the end of the fiscal year to the first fiscal quarter, moving from No. 30 to No. 8.
The NFLPI licensees include Nike, VF Imagewear, Fanatics, Outerstuff, Fathead, McFarlane Toys, Oyo Sportstoys, Bleacher Creatures and more. Licensed product categories include men's, women's and youth game jerseys and T-shirts, player murals, figurines, matted and framed photos, bobbleheads, drinkware, jewelry and electronic device accessories, among others.
The Top 15 players on the list includes:
1. Johnny Manziel, Cleveland Browns
2. Russell Wilson, Seattle Seahawks
3. Colin Kaepernick, San Francisco 49ers
4. Richard Sherman, Seattle Seahawks
5. Peyton Manning, Denver Broncos
6. J.J. Watt, Houston Texans
7. Marshawn Lynch, Seattle Seahawks
8. Dez Bryant, Dallas Cowboys
9. Tom Brady, New England Patriots
10. Aaron Rodgers, Green Bay Packers
11. Clay Matthews, Green Bay Packers
12. Jadeveon Clowney*, Houston Texans
13. Jason Witten, Dallas Cowboys
14. Drew Brees, New Orleans Saints
15. Patrick Willis, San Francisco 49ers
For the complete list, visit nflplayers.com. — J.L.