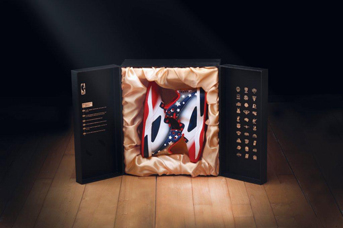 BEIJING AND NEW YORK, June 2, 2014 – The National Basketball Association (NBA) today announced it will launch a limited-edition NBA-branded shoe, NBA Anniversary 2014, on June 6. Only 1,946 pairs will be available to commemorate the NBA's first year in 1946. The launch will coincide with the start of the 2014 NBA Finals.
The shoe will have a suggested retail of $119, and will be available globally on NBAStore.com, the NBA Store on Fifth Avenue in New York City, NBA's official WeChat account "nbashoes" in China, NBATienda.com in Mexico, NBAStore.in in India, and NBA Shop in Taipei.
Each pair of shoes will be a collector's item, identified with a unique four-digit serial number, sequentially numbered from 0001 to 1946 and includes an Official NBA Certificate of Authenticity.
NBA Commissioner Adam Silver will autograph the first pair of shoes with the serial number 0001 which will be auctioned live on http://auctions.nba.comon June 6. The proceeds will benefit NBA Cares community partners as part of the league's social responsibility efforts.
"The global popularity of the NBA is at an all-time high and we wanted to create a unique product that would allow fans around the world to display their passion for the NBA," said Sal LaRocca, NBA President, Global Operations and Merchandising. "This shoe gives collectors the opportunity to celebrate the league's incredible heritage."
The shoe features a red, white and blue design inspired by the NBA logo, while the 30 stars on the heel commemorate the league's 30 teams and its world class athletes. The shoe is packaged in a specially crafted box with the league's most significant milestones and the 30 team logos etched in gold on the inside of the cover.