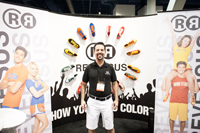 A couple of years ago, Brian Feinberg—a women's apparel veteran—thought everything that could be done to a sneaker had already been done. Then it hit him: No one had ever produced footwear with alternate left-and-right school color combinations. Fast forward three years and we now have Reversus (1061), high-quality low-top canvas sneakers that are unique in the industry. The unisex sneakers feature two-tone color combos that are reversed on each shoe.
"It's a way for fans to emphasize their team spirit in a way that really stands out," Feinberg explains. "Buyers here at the show have been very positive—we love them, they're adorable—people get it right away. You don't have to explain the concept to anyone."
Reversus has been on the market a couple a year or two, and in 2014 expects to have between 25 and 30 colleges licensed. The sneakers are unisex and have a fun, retro feel. And at a retail price point of $35, they are well priced for the quality and styling.