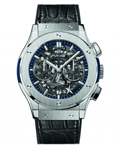 Executives for the Dallas Cowboys, led by team owner/general manager Jerry Jones, recently unveiled an exclusive partnership with Swiss luxury watch brand Hublot.
The partnership, a first-of-its-kind venture between the watch maker and an NFL franchise, involves the creation of three luxury timepieces that reflect the Cowboys' status in American sports. Each timepiece will use the team's famous silver and blue colors, as well as its iconic star at five o'clock — which symbolizes the franchise's five Super Bowl wins.
"Hublot has a great affinity for its association with sports," Jones said at an event announcing the deal. "That's what we're here tonight to recognize, is this relationship, and how we can take this visibility and this relationship, joined with Hublot — a great brand — which is what the Dallas Cowboys ought to be doing."
The three timepieces include a 45mm Classic Fusion in titanium ($18,300), a 42mm women's version in titanium and ceramic ($20,000) and a 48mm King Power in ceramic ($25,200).
Hublot has worked with European soccer powers like Manchester United, Bayern Munich and Paris Saint-Germain, and also is the official timekeeper of the FIFA World Cup.
"At Hublot, the specific philosophy is always to be either unique, either the first or different in everything that we do," says Hublot CEO Ricardo Guadalupe. "The first thing is our message: Hublot represents the art of fusion in watch-making. This is something different from the other brands from the Swiss watch industry."
Although it's the company's first NFL deal, Hublot has entered into the world of American sports before, previously signing deals with the NBA's Miami Heat and Los Angeles Lakers.
For more information, visit dallascowboys.com or hublot.com. — J.L.