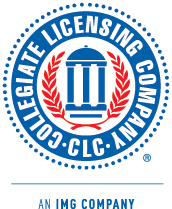 The Collegiate Licensing Co. (CLC), Atlanta, the licensing affiliate of IMG, has announced the launch of an enhanced Spirit Cup competition as part of its 10th annual College Colors Day celebration.
College Colors Day, which is celebrated annually to mark the kick off of the college football season, is a unique holiday dedicated to promoting the traditions and spirit that embodies college experience. Organizations, classrooms and millions of fans celebrate by wearing their team colors and sharing their school spirit with friends and colleagues.
More than 12,000 retail locations across the country will participate in College Colors Day with specialty-themed retail displays to outfit fans across the U.S. with apparel of their favorite college or university to wear throughout the day.
This year, fans can support their favorite university through the Spirit Cup competition, which is a points-based rivalry that uses social media platforms to crown its champion. Fans can earn points for their favorite university or college by showcasing their school spirit on Twitter and Instagram using #collegecolors and their school-specific hashtag. Bonus points can be earned by sharing those posts via the newly created College Colors app, which is now available for download. The school with the most points at the end of the competition will be crowned the Spirit Cup champion and receive a $10,000 donation toward its general scholarship fund.
Fans also can register at CollegeColorsDay.com for a chance to win an all-expenses-paid trip for two to the inaugural College Football Playoff (CFP) National Championship.
The Spirit Cup competition takes place through Aug. 28 at 11:59 p.m. EST. Winners of both the Spirit Cup competition and the College Football Playoff trip will be announced on College Colors Day (Aug. 29) via CollegeColorsDay.com.
In conjunction with the Spirit Cup competition and the CFP sweepstakes, fans also can support the CFP's philanthropic initiative, "Extra Yard for Teachers." The program, which supports teachers by providing classroom resources, professional development opportunities and a recognition program, will receive $1 for every click a fan makes on the Extra Yard for Teachers ad within the College Colors app.
For more information, visit clc.com or CollegeColorsDay.com. — J.L.