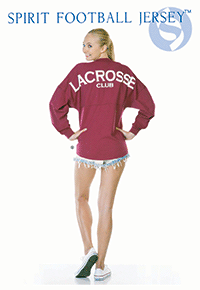 Few industries are as competitive or as cutthroat as the music business. For Andy Garard, it proved to be the perfect training ground for licensed sports apparel. Jake Ptasznik, President of Spirit Activewear, hired Garard 2 years ago to help Spirit Football Jersey reach new consumers. So far, so good.
"As strange as it may sound," Garard says, "there are actually many parallels between marketing a band and marketing a garment." Indeed, Spirit Football Jersey's core demographic has proven to be right in Garard's wheelhouse. He talked to LOGO about industry trends and where his company is headed.
LOGO: Tell us about Spirit Football Jersey. What role does fashion play in the line?
Andy Garard: The jersey has been around since 1996, and as with any garment, it was designed with the hope of being fashionable. It's always been a strong item, but it seems that the past 4 to 5 years—and particularly the last 18 months—it has really come into its own. We field hundreds of calls and emails every day from retailers who are seeing it blow off shelves, often times on pre-order before the jerseys even arrive in store! In this sense, you could say the jersey is extremely fashionable right now.
LOGO: You were brought on to develop niche markets for Spirit Football Jersey. How is that going?
Andy Garard: Very well. The segment of the market that we focus on is mostly college students, but we're also strong in apparel retail and resorts. We're always seeing new markets and niches open up and have sold to everyone from a Japanese Boat Club in Tokyo to sororities in Texas to high-end resorts in Hawaii, Florida and the Bahamas.
LOGO: Given your emphasis on fashion, it's even more important that you track consumer trends. Have you noted anything of particular note recently?
Andy Garard: We're seeing more savvy shoppers—people who want information at their fingertips and delivered to them through the means by which they like to communicate, whether that is through social media or more traditional means. Consumers know that they can now get online and find the information they need much faster. In turn, they expect a much faster customer experience. We've also seen a significant increase in recognition of our garment by its name Spirit Football Jersey. The quality of the garment (100% cotton, pre-shrunk) and the fact that it is made in the USA add to its appeal.
LOGO: What kind of year do you expect in 2014?
Andy Garard: We're going to continue concentrating and growing the markets we're already in and refining our customer service and interaction as best as we possibly can. We also have a number of growth areas we're going into and should be ready to announce soon. Needless to say, we have plenty up our sleeves for 2014!
What we do:
Spirit Football Jersey operates under the auspices of Spirit Activewear. The Spirit Football Jersey is the top-selling product of its kind and has experienced phenomenal demand in recent years. Licensing is a huge focus for Spirit Football Jersey. The company is currently licensed to print all of the Greek names and many school names. It is in the process of acquiring more licenses, which will be announced in the coming months.