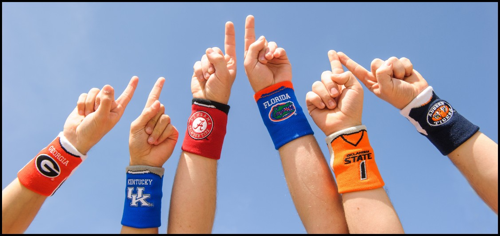 With Fan Band, you can wear your favorite team or player on your wrist with this high quality arm band embroidered with an official jersey replica. It is an authentic, patented armband for a fraction of the cost of a jersey.
At a retail price point of less than $15, Fan Band is becoming increasingly popular with athletes and fans of all ages. "Part of the allure of Fan Band is the uniqueness of the product. It is the only armband that offers an exact embroidered replica of a player or team jersey for a fraction of the cost of buying a jersey," says Holly Ruma, CEO of IPC Sports.
"Our unique, patent-protected design gives sports fans an exciting new way to support their team or favorite player," says Ruma.
Currently, Fan Band is available in players and teams for MLB & NBA. Fan Band has just wrapped up licensing and production with their collegiate line with 30 schools. The Collegiate line started shipping to stores August 15th.
Based on the reaction that Fan Band received at the Sports Licensing and Tailgate Show back in January, as well as buyers over the past few months, Fan Band expects the new styles to have a big impact in the retail markets.
"The response to Fan Band has been extremely positive," says Brian Hendricks, National Sales Director for Fan Band. "Everyone is very excited to see a new licensed wearable hit the market with such a unique appeal to both athletes and fans."Fan Band is also backed by some real leaders in the industry. One of IPC Sport's Board Members is Sports Authority founder Jack Smith. "Jack's insight and knowledge is a tremendous advantage to our organization," says Ruma.
FanBand has also been very active designing new products and adding to their existing lines. They added a MLB Team line to their very popular MLB Player line for the MLB season and the collegiate launch is right around the corner. Fan Band's is growing at a fast pace and they have plans to launch additional licenses and products in the coming months.
Fan Band is a high-quality product that is revolutionizing licensed sports products. Fan Band has active licenses in place with the NBA, MLB and Collegiate. Additional licensing opportunities are currently being pursued. More information about the Fan Band can be found at FanBand.net.
IPC Sports Corp. is more excited than ever, as they move into a new phase of product expansion and development of new Fan Bands and Licenses. IPC Sports Corp. is a diversified sporting goods products and apparel company. Founded in 2012, the organization is focused on bringing to market innovative new sporting goods as well as licensed sporting goods and apparel products into the sports space, with an emphasis on team licensed merchandise. www.FanBand.net