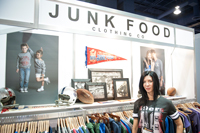 We all swear we won't succumb to the junk-food urge at trade shows, but here in Las Vegas buyers are making a notable exception. Junk Food Clothing Co. (7088) is making its first appearance at the Sports Licensing and Tailgate Show, bringing its fashionable line of aged authentic vintage tees and fleeces. Junk Food designs for men, women and kids, and holds NBA and NFL licenses. If you've been to 59th and Lex lately, you saw their stuff in the Super Bowl-themed windows at Bloomingdale's. Junk Food also does big business with Nordstrom's.
"We already have a strong following in this market," says Jacquie Jaeger. "We decided to show here for the first time to pick up some of the smaller, boutique and specialty stores."
The 2014 NFL collection is getting the most attention here. Junk Food has updated the entire line, with more diversity in its body silhouettes. New colorful sleeve-style tees and an additional Henley in a tri-blend saw a lot of Day 1 action.