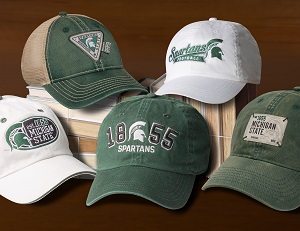 AHEAD announced today the official launch of a Collegiate Division, AHEAD Team, that will supply the college market with its premier brand of high-quality and innovative headwear, which has been renowned in the golf/resort industry since the company's debut nearly 20 years ago.
"The collegiate market has long demanded our product," said Anne Broholm, CEO, AHEAD.  "This market is a perfect match for AHEAD's core competencies of creative ornamentation, exciting breadth of product, and quick turn.  Under our new ownership structure it is exciting to be able to devote the resources necessary to compete in this market where our products have already been sold for many years."  Broholm added that she is tapping the sales resources of sister company, Cutter & Buck, whose experienced collegiate sales representatives will represent the AHEAD brand of headwear to the collegiate market.
Known for its quality products and superior ornamentation, AHEAD is the largest supplier of headwear to the golf/resort industry and their products have been sold at major golf events, including the U.S. Open and PGA Championship.  Broholm said she is confident that collegiate stores across the country will enthusiastically embrace AHEAD's official entry into the market.
"We have assigned a team of dedicated collegiate artists to AHEAD Team," Broholm said.  "From the outset, this will give our customers an array of creative products to choose from, and we are poised to respond quickly to any order size and request."
AHEAD was acquired in July 2011 by New Wave Group AB (NEWAb.ST), which is headquartered in Sweden and boasts significant interests in North America.
In addition to headwear, AHEAD is a multi-dimensional brand that also features apparel and accessories for the markets it services.  For additional information, visit www.Aheadweb.com.